Our Story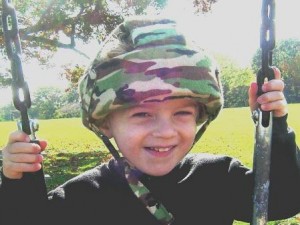 Hi, this is my son Mitchell. He was born with a rare blood platelet disorder that puts him at a very high risk of bleeding internally. When he began to move and crawl about he required a protective helmet so that if he hit his head it would not cause internal damage.
A very large institutional type helmet was given to us to help protect him. Being not only a mom, but also a Physical Therapist, I knew all to well the irreversible brain damage an intracranial bleed could do.  So the risk of Mitchell falling and hitting his head was a risk I was not willing to take. It just killed me to put something so ugly and stigmatizing on his little head. So with a bit of help and a lot of modifications COMFY CAPS were created.
They are not just soft, they are comfortable and oh so cute! I made him multiple patterns and colors, and even holiday prints. So now when he has his cap on, people do not stare at him, they simply say "what a cute hat". As a mother with a child that has a bleeding disorder, I live with the fear of my child getting hurt and internally bleeding at any given time. COMFY CAPS gives me the comfort of knowing that if he does fall and hit his head, his injury will be very minimal or possibly prevented.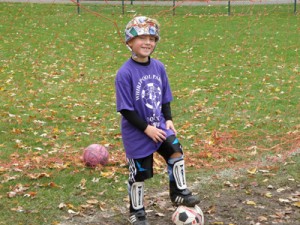 COMFY CAPS allows Mitchell to play just like any other little boy and live as normal of a life as possible. COMFY CAPS could not have been made possible without the help and support of the staff at the Hemophilia Center of Western New York, Pediatric Unit-Children's Hospital of Buffalo. They encouraged me to take something that was so personal and share it with the rest of the world. Mitchell's disorder has been devastating for our family but it also created COMFY CAPS and now I have the chance to help protect other children, I guess everything does happen for a reason. I hope that COMFY CAPS can provide you with the same peace of mind that they do for me.
Thank you for your interest in COMFY CAPS,
Leah J. Brundage